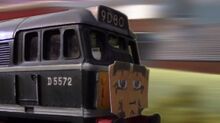 Boomer is a large mixed traffic diesel engine who works on the Waterdown Railway Bulit in 1959.
---
CHARACTER HISTORY
---
Boomer arrived on Waterdown just before Atlas.
---
CHARACTER PERSONA
---
Boomer is a rather friendly diesel engine who gets on with most of the engines of the Waterdown Railway, Cojak in particular looks up to him. He is a hard worker and knows how to communicate with less pleasant diesels. Despite a positive outset, Boomer has a tendency to break down which can cause annoyance.
---
LIVERY
---
Boomer is painted in BR Green.
---
BASIS
---
Boomer is based on a British Rail Class 31.
---
APPEARANCES
---
Specials
---
Voice Actor
---
Haydn: Public Enemy onwards
---
TRIVIA
---
---
GALLERY
---