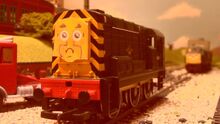 Boxer is a small diesel shunter who works previously on the Waterdown Railway and now the Mainline. He was built in 1968
---
CHARACTER HISTORY
---
Boxer was an average diesel and he was built in Midland, England,1968
---
CHARACTER PERSONA
---
Despite moving to the mainland, Boxer still feels sympathy for steam engines and defends them against typical diesels such as Thunderball.
---
LIVERY
---
Boxer is painted in BR Green with Yellow Warning Signs.
---
BASIS
---
Boxer used to be part of a Class 13 Diesel Shunter with Benjamin, before being rebuilt as a Class 08.
---
APPEARANCES
---
Specials
---
Voice Actor
---
---
TRIVIA
---
Boxer

shares his motor with Dawn, explaining why they have not been seen together.