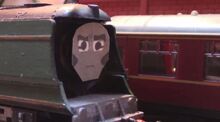 Sherlock Hill is a large passenger engine who typically pulls the Waterdown Express.
---
CHARACTER HISTORY
---
Not much of Sherlock's history is known, but it can be assumed that he used to work on the Southern region before being purchased to run the Waterdown's Express services.
---
CHARACTER PERSONA
---
Sherlock is typically a very friendly steam engine who has great respect for engines such as Zebedee and Atlas and has a kind nature towards some of the other engines. However, he can be a bit brash when things go wrong.
---
LIVERY
---
Sherlock is painted green with yellow stripes and has a white star on his tender, a trait shared by Zebedee and Ramona.
---
BASIS
---
Sherlock is based of a SR Bullied Light Pacific, built in 1950.
---
APPEARANCES
---
---
Voice Actor
---
---
TRIVIA
---
Sherlock Hill (along with Zebedee) has had a model change in Episode 7.
The real Battle of Britain No. 34037 was named 'Clovelly' after a small village in Devon. The engine was withdrawn and scrapped in July 1967.
A possible sibling of Sherlock's, Gallant Knight, appears on the back of Traverse's program in Kindred Spirits.
---
GALLERY
---
Community content is available under
CC-BY-SA
unless otherwise noted.